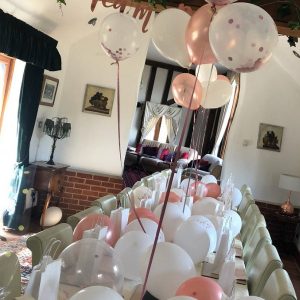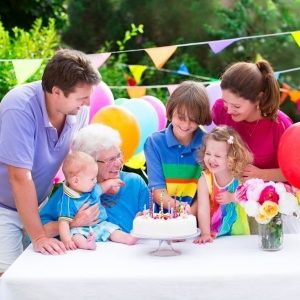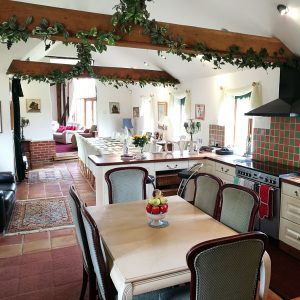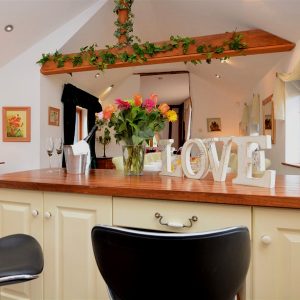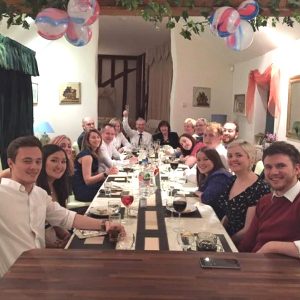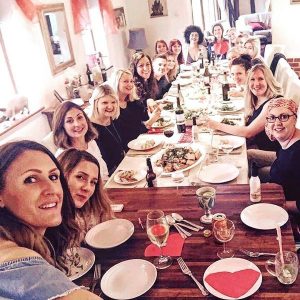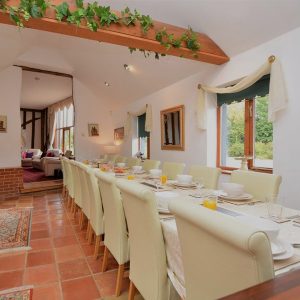 Doves Barn offers spacious Self Catering in Suffolk accomodation set in 3 acres of landscaped gardens, beautifully restored by an award winning architect.
This delightful 16th Century Grade II listed holiday Barn is a perfectly located luxurious hideaway, with a large kitchen and dining area which is ideal for self catering.
Seating up to 22 guests, self catering can be a real pleasure in the delightful well resourced environment. The spacious self catering dinning area is ideal for sitting down with your friends and family and enjoying wonderful luncheons, parties, fine dining and dinner parties.
Self catering is easy at Doves Barn with supermarkets nearby where you can purchase everything that you need for your BBQ, dinner party or just a relaxing self catered meal which you can prepare at your own time and with your own perfect choice of dishes and ingredients.
To prepare for you in advance, you can order from the local supermarket and we will take your order in for you so that it will be here for you when you arrive. Self catering is a very economical way to have a holiday at Doves Barn, and we have large fridge freezers for all of your shopping, so it will be great fun to plan your meals in the large kitchen area.
For a special treat you could use one of our recommeded Chefs who will prepare delicious meals to order. We have many Self catering companies that will be happy to offer you quotes which will fit your budget.
On a warm evening you will be able to dine underneath the stars on one of our 3 spacious patios, relax and unwind, enjoy the timeless surroundings with the original oak timbers and features which offer a unique blend of antique elegance twinned with modern conveniences.
Doves Barn is a haven for those seeking a serene country escape which is ideally situated for our guests to get away from the hustle and bustle of everyday life, but still conveniently situated to explore the delightful towns and villages of Suffolk.
Doves Barn is perfect for families and for special celebrations either self catering or with hired in professional caterers. A truly magical place to stay!
If you have any questions on self catering or local suppliers do not hesitate to give us a call.